As shown in a recent survey, 53% of recent college graduates are either unemployed or underemployed and it would take them about half a year to find a full-time job. 
The irony of job hunting is that getting a job requires work experience and to gain the required experience, you need to have a job! Hiring manager's consistently say they value candidates who are willing to work hard to gain new skills. 
A huge percentage of successful careers often begin with entry-level jobs. In this article, we will review practical tips for getting a job with little or work experience.
How to Get a Job With No Experience
Whether you're a fresh graduate or you plan to explore a new career path, having to contend with not having the "required experience" can make your job search tedious. 
But you know what? You can't just give up! Remember this first job can be a stepping stone to landing your dream job.
Here are some tested tips for getting a job with no work experience. 
1. Find Work You Enjoy
True fulfillment comes when you do something you enjoy. A self-assessment form 123 Career Test or Red Bull Wingfinder can be a great place to start. But remember as a new graduate your goal is to connect with the hiring manager so you can gain real-world experience.
You may also consider doing an internship or taking a part-time job to gain the relevant experience and specific skills required for the career of your choice. Another option might be volunteer work in your particular field.
2. Start Networking
The U.S Bureau of Labour and Statistics shows that 85% of jobs are filled via networking opportunities. Consistently meeting new people can help you build a quality professional network 
Here are proven tips to help grow your network:
Attend

professional associations

events. 

Meet people within your industry and perform

informational interviews.

Practice your elevator pitch with high school friends and family members.
Networking gives you access to job opportunities and keeps you alert to trends in your industry. 
But you have to: 
Be professional, always.

Keep your social media platforms updated with relevant information. 

Follow industry experts closely and engage with them if you can get in their faces. 
Often, a recommendation from someone an employer trusts can get you a job even without any experience. Be open and trustworthy. Also, have an updated resume ready and a current LinkedIn profile.
3. Follow Industry Trends
Every industry has its requirements for job seekers. Follow these trends closely, and search for topics relating to your industry. 
You need to:
Know what employees want in a candidate. 

Stay on top of the table at all times

Follow the organizations and potential employer. 

Be conversant with happenings in your industry. 

Equip yourself to be able to solve the target company's needs. 
Following and connecting with companies and individuals in your chosen field on social media sites like Twitter and LinkedIn can also yield impressive results that get a job with no work experience. 
4. Use Multiple Sources
Using multiple sources when looking for a job is also very important. While networking has proven to be highly effective in finding a job, having other sources will also afford you more opportunities. 
Attend career seminars and fairs, search job boards for relevant job listings. 
Also, job boards like Indeed, ZipRecruiter, and social media platforms are sources for finding jobs; use them effectively. 
5. Join Active Communities
You can get recommendations for job opportunities in a community of like-minded people. This is possible if you engage other members in meaningful discussions. You should also be open, forthcoming, and resourceful. 
You can join professional career communities to improve your knowledge and learn more about your industry and the experts in it.
Things you should do in a community:
Ask questions that spark conversations. 
Take notes of important ideas. 
Engage in meaningful conversations with other members. 
Broaden your horizon, be limitless in seeking knowledge.
6. Get Relevant Certifications
Some industries have specific certifications requirements. For example, to learn skills like marketing and sales, Skillshare is highly recommended.
They offer free trials and thousands of free courses with certifications. 
It would be best if you learned relevant things there is to know about your industry and the jobs. Also, you can attend seminars and business meetups to position yourself for your dream. But it will also help you when networking or interviewing for the job. 
7. Brush Up Your Soft and Technical Skills
Soft skills are valuable and transferable. They are helpful in every industry, and they show how you interact with other people and conceive ideas. 
Communication skills, problem solving, interpersonal, leadership, and time management are essential soft skills to make yourself the perfect candidate in a competitive job market.  
Let your CV scream personality and proudly show off your technical skills. You are showing how or why a particular soft skill will help you perform in your role. It's a good idea to take a close look at the job application to see how your previous experience aligns with job posting.
8. Resume and Cover Letters Still Matters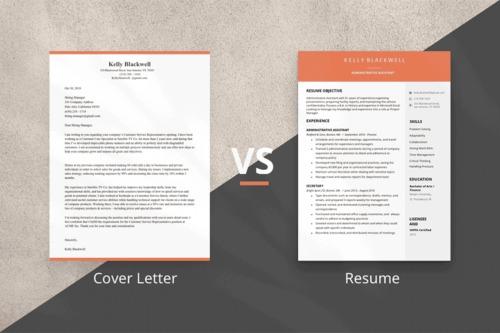 Source: Resume Genius
As a fresh graduate or if you're looking to explore new opportunities, your cover letter is the perfect link to address whatever gaps you have in your CV. 
Don't try to brush over your experiences; own it, address any concern an employer may have about your lack of experience. 
Update your cover letter and CV regularly; focus on your talents and skills and not just job titles. 
Let your CV showcase all the great things you can contribute to the company in the future. You might consider hiring a professional resume writer for your cover letter and CV.  
9. Don't Be Afraid
Confidence is critical when searching for a job. Believe in yourself, your abilities, trust the process and give it your best shot. 
Have a captivating story that leaves no doubt that you are the best person for the job. It's your story; tell it! 
Don't be intimidated by questions from the interviewer. Instead, provide clear and concise answers to why you need the job and not some random "oh I just need a job to survive" line. 
Be purposeful about what you will do to reach your goals. And the value you bring to the organization. Show all the essential skills and experiences that you have and while at it, exude confidence. 
10. Ask For Feedback
Asking for feedback from employers portrays you as someone determined and thoughtful. Companies want to hire people who know their mission, vision, culture, and corporate purpose.
You can also send emails to ask for their honest feedback on your application. Their feedback will help you improve and get better at your following interview. 
Note that feedback is only necessary when you make it to the interview stage. Do not be afraid to ask for your lapses and mistakes.
Now that you have made all the connections, equipped yourself with relevant skills, and finally, you got scheduled for an interview, WHAT NEXT …
Interview Guide
The first question you probably will be asked in an interview could be, "Why do you want to work in our company?" Many companies want to know if you are familiar with their activities.
That is where the power of the first impression comes in! Before going for an interview, recruiters expect you to know some basic information about the company. 
If they are unsatisfied with your response, the interviewer may already be tuning out and moving you to the "NO FOLDER" in their mind. 
Remember, there are hundreds, if not thousands of other applicants out there competing for the same job. So make sure to research the company and its top executives. Also, be familiar with the activities, wants, and needs of the company. 
You can also search for possible interview questions, compose your best responses and write them down…very important! 
Be well prepared with your answers and make the most of your interview. Again, confidence is vital. Speak clearly, and do not be in much of a rush.
Wrap It Up 
It's almost impossible to find entry-level jobs when you have no experience. But by taking the proper steps, you can position yourself for fantastic opportunities. 
Different industries demand different skill sets and experiences, so being on top of your game at all times will get you more prepared.
This piece of advice will position you for that dream job you've always wanted. If you're willing to take risks, grow, give it your all, and make every sacrifice count.